Castle of the Month
Each month, I showcase a beautiful castle from somewhere around the world. I hope you enjoy this page, and that it inspires you to find your own home and make it your castle.
Castle of the Month - December 2018
Moritzburg Castle, Moritzburg, Saxony, Germany
Moritzburg Castle is a Baroque castle built on a man-made island, in the German state of Saxony near Dresden, Germany. It was originally built as a hunting lodge in 1542-1546 for Moritz of Saxony, the Duke of Saxony. A chapel was added in 1671. From 1723-1733, a formal park, several ponds, and a game preserve were added. The Little Pheasant Castle was built between 1770 and 1776, along with a building to house bird nets, the large Well of Venus, living quarters for a Count, and a miniature harbor with a jetty and lighthouse. The harbor was used to stage naval battles for the amusement of the monarchs.
The interior of the castle is filled with opulent Baroque furnishings and decor, including: a collection of 71 red deer antlers hundreds of years old, featuring the heaviest red deer antler in the world; silver furniture styled after the furniture of Louis XIV in Versailles; engraved and inlaid hunting weapons; painted leather wallpaper; and a collection of royal carriages.
The interior of the Little Pheasant Castle is filled with Rococo decor, including murals, inlaid wood paneling, gilded stucco ceilings. and unique finishes using embroidered silk, straw, pearls, and feathers.
Moritzburg Castle, the Little Pheasant Castle, and the park grounds are open to the public for tours and exhibitions.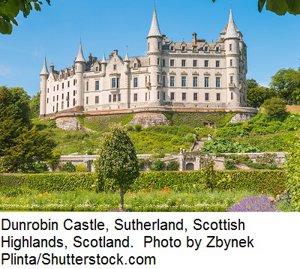 For help in finding your "castle," email Carol at homes@pasadena-homes.com, or call her at 626.351.5999, to find your own home.